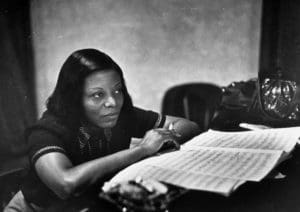 Recently, I had a conversation with a woman who needed a listening ear. Her husband died and she was raising her son alone. Within her grief, she was trying to keep her husband's legacy alive as a jazz saxophonist. That evening, she attended a jazz concert by the Irreversible Entanglements. She described Camae Ayewa aka moor mother's voice and words permanently affecting her soul. She said she would never be the same.
As she quickly jumped into a cab, I was left thinking about the power of women in Jazz. Like most things in this world, Jazz music is male dominated. My mind wandered to Mary Lou Williams and her lesser known legacy. Williams was a pianist, educator, arranger, and composer of more than 300 records. She wrote for Duke Ellington and Benny Goodman. She mentored and influenced Monk, Parker, Davis, and Gillespie, just to name a few.
Williams was the first woman to be recognized alongside the greats of Jazz musicianship. She was involved in the Kansas City Jazz scene in the 20s. She was essential to the Swing Era and Bebop in the 40s. In the 50s her religious beliefs moved her to compose various religious works, including one that was performed at St. Patrick's Cathedral.
In 1977, Williams went to Duke University as an Artist in Residence. She taught Jazz history and conducted a Jazz orchestra, furthering her impact on the next generation of musicians. Even while ill, she continued to perform concerts and teach.
Mary Lou Williams was the first person to receive the Trinity Award based on service by Duke University students. She was nominated for Grammys, received honorary degrees and founded the Mary Lou Williams Foundation, which continues to this day to advance Jazz music and teachings while extending the musical legacy of "The First Lady of Jazz."