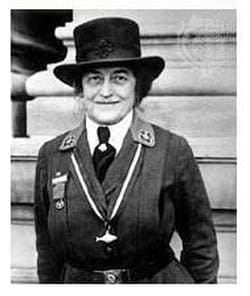 Friends called her "Daisy" and her siblings called her "Crazy Daisy" was born October 31, 1860 in Savanna Georgia. A strong, independent, resilient woman who historians speculate was dyslexic, was the founder of the Girls Scouts. At a young age she was sent to boarding school and was raised to be loyal, dutiful and respectful of others all traits that Girl Scouts were taught.
​Yet, Gordon had an empathy for others and unconventional outlook on life that set her apart. She had a reputation for eccentricity. Her siblings gave her the name "Crazy Daisy" because of her struggle to keep track of time, her frequent "experiments" that went awry, and her many acts of kindness that resulted in good-natured disasters.
It was most likely this spirit of adventure that lead her to explore the outdoors and travel the world. In 1886 Gordon married William Mackay Low and moved to England. Her good life soon took a turn for the bad. Because of her husband's wealth, the Lows traveled often and socialized with the educated and monied. William eventually began spending more time apart from his wife, gambling, partying, hunting and splurging on extravagant toys.
Low who suffered from hearing loss due to rice from her wedding getting lodged in her ear, also spent time traveling to search for cures for her hearing loss. She also struggled with ovarian abscesses, the reason she never had children.
In 1901, Low learned of her husband's relationship with actress Anna Bateman. During the process of leaving her husband and filing for divorce, her husband died of a seizure while on a trip with his mistress. At this point Low learned that her husband amended his will leaving his fortune to his mistress.
This is when her resilience and optimism served her well. In 1911, Low had a chance meeting with British general Robert Baden-Powell, a war hero and founder of the Boy Scouts. Baden-Powell founded the Boy Scouts with the intentions of training young boys for defense and preparedness in case of military invasion. Baden-Powell emphasized that the training should be fun, an idea that Juliette deeply appreciated.
The two shared a love of art and travel and instantly became friends.
​The early troops, known as Girl Guides, were led by Baden-Powell's 51 year old sister Agnes. This group was made up of all the girls who had appeared in their brother's Boy Scout troops dressed in piecemeal uniforms eager to learn the same skills the boys were learning. Baden-Powell, Agnes and Low all agreed that the girls should have their own group.
Low started several troops in Scotland and London, for girls of varying income brackets. The effect on the girls' self-esteem was so striking that Low decided she had to take the program to the United States, starting with her hometown of Savannah, Georgia.
​On March 12, 1912 at the age of 52, Low registered the first troop of American Girl Guides.
Membership peaked in 2003 at 3.8M with notable names such as Hillary Clinton, Michelle Obama, Condoleezza Rice, Venus Williams, Katie Couric, Mariah Carey and Taylor Swift.
76 percent of current female senators and 80 percent of current female governors were Girls Scouts.