WomenX

On the Frontlines

Podcast
Visit this page weekly to stay up to date and in the know!
Episode #5:

GameStop

Xplained Pt. 2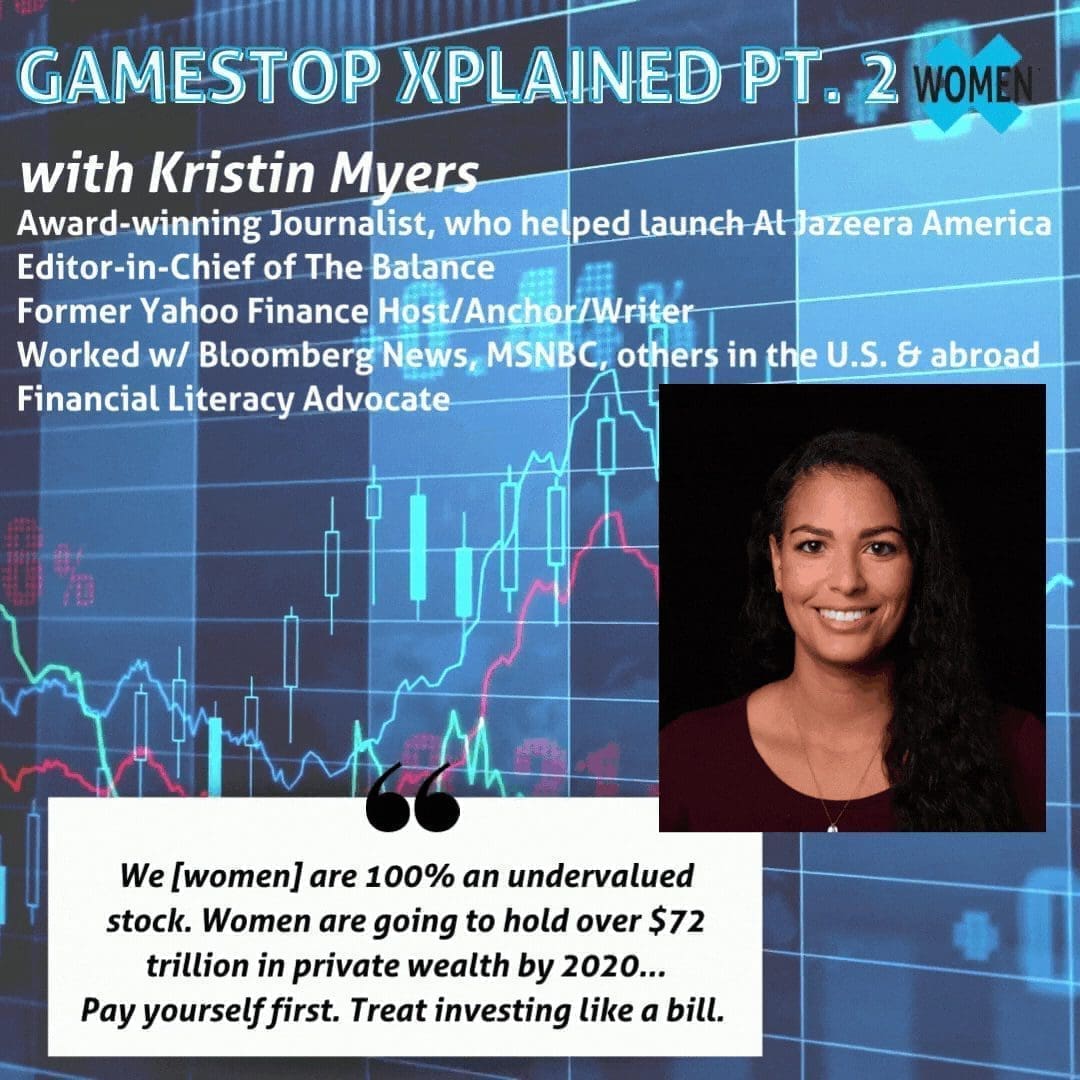 In this episode, we explore how the GameStop frenzy highlighted the absence of women's voices in conversations on investing. We discuss why women are missing from discussions like those about GameStop and why they participate less in the stock market.
Stocks are tools that we all can leverage to build wealth, but how should women begin engaging in market participation? We learn why accessing trusted information and using the skills that we already hone in managing our personal finances are important first steps to building our own stock portfolios. We continue our conversation with Kristin Myers, an award-winning journalist whose work recently focuses on financial news. She educates us on the disparity between men and women as it relates to investing and why there is no time like the present for women to leverage their consumer power to build wealth.
Kristin Myers is an award-winning journalist, producer, and Editor-in-Chief of finance and economics site TheBalance.com. Before joining The Balance, Kristin was a senior writer at Yahoo Finance, host of Yahoo Finance Live, and one of the creators and hosts of "A Time for Change," a weekly program that explores race, diversity, and inclusion in the world of business, finance, and politics. Previously, Kristin also helped launch Al Jazeera America, where she produced high-profile guest segments and was part of field teams for special coverage, including the riots in Ferguson, and the funeral of Nelson Mandela in South Africa. She has also worked with Bloomberg News, MSNBC, and others, in the U.S. and abroad.
Check out our other episodes:
Subscribe to our podcast!
Listen On